Professor K and the Stolen Recipes of Suleiman
"Journey of the book:" Research; Istanbul
My friends, you will recall that in my previous blog – Life after The Hidden Genes of Professor K – I promised you a literary adventure. I promised to take you on a journey – the "journey of the book". Well, this is the beginning of our journey. I hope you enjoy the ride.
As you know, I take research and authenticity very seriously and visit all the places mentioned in my books. To create a seamless storyline, I try to weave fact and fiction together, blurring the boundaries between the two, so that the reader is never quite sure where one ends, and the other begins. This is of course quite deliberate as it creates the illusion of authenticity and reality in a work that is pure fiction. A successful work of fiction is a balancing act: reality must rub shoulders with imagination in a way that is both entertaining and plausible.
Istanbul is one of my favourite cities. For a writer like me, inspiration is at the very centre of the creative process, and there are few cities in the world that can inspire like Istanbul. I find my inspiration in history and historic places and try to shape my stories and characters around historic events and real people.
One of the central characters in Professor K and the Stolen Recipes of Suleiman is anchored in history and an extraordinary event that took place in the Topkai Palace in December 1574, the night the sultan, Murad III, died.
I first came across this shocking event and the amazing story behind it during one of my recent visits to Istanbul. Our guide – a Turkish archaeologist – showed us a fascinating, but little known pavilion next to the Hagia Sophia; the tomb of Selim II. What I found there and the impact it had on me became the inspiration for the book.
I have tried to capture this moment in the Author's Note which will appear at the beginning of the book and is reproduced below to pique your interest. I hope it will do just that.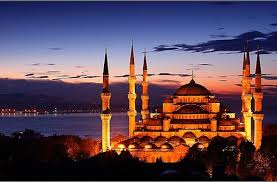 Istanbul. Sparkling gem on the Bosporus, where East and West collide and Europe meets Asia. I can think of no other metropolis where diverse cultures, religions, and thousands of years of history intersect in such a dramatic way. The name alone conjures up images of bloody conquests, fallen empires, armies marching into battle and stupendous buildings reaching to the heavens, where the muezzin's haunting call echoes through ancient squares, calling the faithful to prayer.
Our guide—a Turkish archaeologist—had just taken us through the Topkapi Palace and the Hagia Sophia, one the most awe-inspiring edifices on the planet.
'There's one more thing you have to see,' he said, pointing to a beautiful small pavilion next to the basilica. 'It's a turbe; a tomb. The tomb of Selim II. What I'm about to show you is a reminder of barbaric times, absolute power, and murder. Not just any murder, but the most horrific mass murder imaginable. It's a sad part of our history that's often overlooked and rarely talked about. Even the historians here would like to forget all about it.'
My curiosity aroused, I took off my shoes and followed the professor inside. Designed by Sinan—the famous Ottoman architect—and built in 1577, the stunning building decorated with colourful Iznik tiles and marble that reflected the bright morning sun, hides a dark secret. Expecting to find the tomb of Selim II, son of Suleiman the Magnificent and sultan of the Ottoman Empire from 1566 until his death in 1574, I was surprised to find many additional graves.
Silently, we followed our guide along the solemn rows of sarcophagi covered in green cloth, some of them quite small. 'I can see you are a little confused,' said our guide. 'If you think this looks more like a cemetery than a tomb, you are right. It is. As you can see, Selim is not alone. There are many others buried in here with him. That may be curious enough, but who they are, and how and why many of them died, is far more intriguing and will shock you.' Our guide paused, no doubt to let the tension grow.
'To begin with,' he continued, 'we have five of Selim's sons buried next to him over there. They were all murdered on the night he died in December 1574. Why? To ensure that his eldest son, Murad III, would succeed him peacefully and without being challenged.'
'By silencing possible rivals?' I asked.
'Precisely.'
'And who are the others?'
'Nineteen of them are sons of Murad III, who were murdered on the night he died in January 1595. They were all strangled by deaf-mutes with a silk chord.
'Are you suggesting that by murdering all of his half-brothers, the eldest son secured his succession and became the next sultan?'
'Yes.'
During the stunned silence that followed, I looked along the rows of solemn graves, each a sad reminder of a life cut short by naked ambition, lust for power, and fear. Momentarily overcome by the sadness of the moment, my mind began to wander. What if one of them had somehow been spared? I asked myself. What if one of them had managed to escape, and survived? What if …?
For some reason, I couldn't get these haunting questions out of my mind. They stayed with me and became the inspiration for this book.
*