5 Star Review of 'The Forgotten Painting' from Readers' Favorite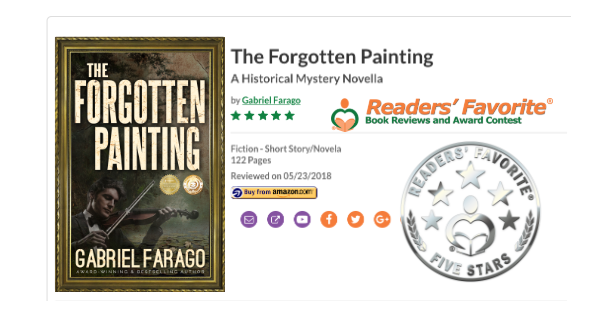 BOOK REVIEW
Reviewed by Emily-Jane Hills Orford for Readers' Favorite
Joy, sorrow, suffering, tragedy, loss – the entire spectrum of human emotions can envelop a person for either good or evil. Nothing expresses the magnitude and infinitesimally emotional power of music and art than the story surrounding the lives that both created them and those that nurtured and enjoyed them. Music and art are the very essence of being human. So, the story that follows music and art creates a powerful life force of its own. A story wrought with the joy of giving, the agony of having the gift removed, the guilt that follows the one who took the gift, and the violence that both frightened and expunged the beauty of life itself, making the beauty of the painting and the music dull in comparison.
We're talking about a painting of a garden with a violinist playing off in the corner. The painting is by a famous Impressionist artist, Claude Monet. He painted the violinist into his garden scene and then gifted the painting to the violinist. A treasured gift that held prominence in the Jewish home for years captured the eye of a Nazi soldier after the Warsaw Ghetto uprising. The violinist and his family were sent to Auschwitz, the painting was hidden in the Imperial crypt of the Hapsburgs in Vienna, and the Nazi thief lived the remainder of his days in fear of being brought to trial for his war crimes and with regret for what he had done. But there's another twist to this story, a mystery about the painting itself. Is it the real Monet? Or is it a forgery?
Very seldom does a story capture my emotions as deeply as this one did. Like the 1998 movie, The Red Violin, Gabriel Farago's The Forgotten Painting: A Historical Mystery Novella takes the reader on a journey led by a painting and the music it represented. This is a story about a painting, but it is so much more. It's a narrative, complex and intricate in its presentation, that traces a drama from the early 1920s, through the horrors of the Second World War and projecting a connection to a monastery in the outback of Australia and a young boy, Jack Rogan, a celebrated writer, a passionate storyteller, who will follow the clues that lead back to the hidden painting. Powerful writing. A mystery within a mystery.
https://readersfavorite.com/book-review/the-forgotten-painting