Riding boots and a hat; two good old friends. This is about the hat, not the boots, and the hat has a name – Dubbo. Curious? This is its story. Dubbo is an Akubra. 'An Akubra?' I hear you ask, 'what's that?' Well, let me tell you: An Akubra is an Australian icon. It's a wide-brimmed bush hat worn by stockmen, graziers, horsemen, farmers, hunters and adventurers like me who love the outdoors. Founded in the 1870s, the original modest hat-making factory was set up my Benjamin Dunkerley in Tasmania. He invented an ingenious machine which could remove the hair tip from rabbit fur. He used the more pliable under- fur to make his famous hats. During both World Wars, many of the Slouch hats worn by the Australian forces were manufactured by Dunkerley. Since then, several Australian Prime Ministers have worn Akubras. Perhaps the best known of them was Ben Chifley whose Akubra is now proudly displayed in the National Museum of Australia. My Akubra is made from rabbit fur felt and has been my trusty companion for more than 30 years.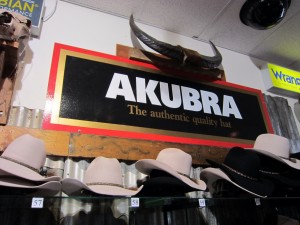 However, as every experienced stockman will tell you, it takes a long time for a hat like that to be considered ' just right.' Dubbo is one of those treasured possessions that get better with age and exposure to the elements. Shaped by driving rain,
hailstorms, scorching outback temperatures in the Australian desert, and blizzards in the rugged New Zealand mountains, Dubbo has become a friend who never leaves my side, or shall I say my head, when I'm in the bush.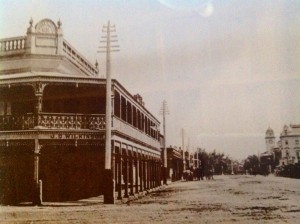 Royal Hotel, Dubbo, 1880's
Dubbo was a present from a publican. I was given the hat the day I bought the Royal Hotel in Dubbo and for a short time became the licensee. But that's another story. 'You can't own a pub without a proper hat, mate,' the publican said. 'Just wouldn't be proper.' With that, he reached under the bar, produced my new hat, and insisted I try it on then and there. I must confess I did feel rather foolish at the time. Just imagine, a slick young lawyer from Sydney in a pin-striped suit, sitting in a crowded country pub, trying on a funny new hat. Well, that was me. Since then, Dubbo, as I named my new hat, has accompanied me on many adventures. Here are a few: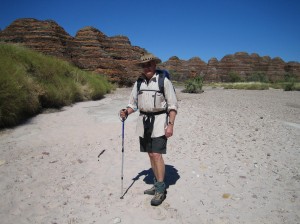 Hiking through the Bungle Bungles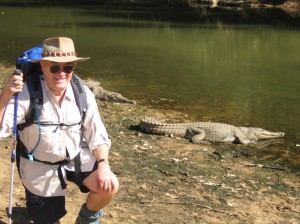 Crocodiles in Western Australia
On top of Mount Ossa, Tasmania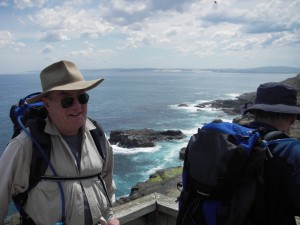 Walking The Great Ocean Road