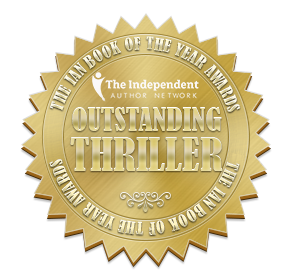 Outstanding Thriller of 2017
Thriller Category Winner
Independent Author Network Book of the Year Awards
This book is brought to you by Bear & King Publishing

A Future To Look Forward To…
The Hidden Genes of Professor K and The Garvan Institute of Medical Research: Thriller-fiction meets science reality.
Professor K— world-renowned scientist—knows he's close to a ground-breaking discovery. He also knows he's dying. With his last breath he anoints Dr Alexandra Delacroix as his successor and pleads with her to carry on his work. Unwittingly, Delacroix enters a dangerous world of unbridled ambition and greed that threatens to destroy her. Desperate and alone, she turns to Jack Rogan—celebrated author and journalist—for help.
Alistair Macbeth—self-made billionaire and enigmatic founder of Blackburn Pharmaceuticals—has a murky past. He knows he must secure Professor K's discovery for his empire, or perish. Powerful and ruthless, he will stop at nothing to achieve his dark and deep desires.
Meanwhile, when the parents of famous rock star, Isis, are brutally murdered, Jack Rogan is asked to investigate.
On a perilous journey of discovery which takes them around the globe, Jack and Lola Rodriguez—Isis' resourceful PA—join forces with Jana Gonski, a former police officer; Dr Bettany Rosen, a tireless campaigner for the destitute and forgotten; and Tristan, a gifted boy with psychic powers. Together, they expose a complex web of fiercely guarded secrets and heinous crimes of the past that can ruin them all and change history.
Will Rogan succeed? Will the dreams of a visionary scientist with the power to change the future of medicine fall into the wrong hands, or will his genius benefit mankind and prevent untold misery and suffering for generations to come?
To purchase your copy of The Hidden Genes of Professor K, click on the Link below. (The Hidden Genes of Professor K is only available at Amazon at this time)

The Hidden Genes of Professor K by Gabriel Farago was one of those books that had me captivated right from the very beginning. The number of different characters and stories that take place in the book might be confusing to some people, but it reminded me of the style used by the Game of Thrones TV show. I personally really liked the way Gabriel Farago had so many different story and plot elements woven together in one mystery. I have to say that I found Jack Rogan to be my favorite character; I liked how he was determined to solve the mysteries in front of him and that he was willing to accept help. I have really gotten bored with the whole lone wolf detective thing that has been overdone in mystery books and shows, which made this book a real breath of fresh air!
---
Secrets of Professor K:
Garvan Mystery Challenge
I would like to invite you to discover the secrets of Professor K by participating in the exciting 'Garvan Mystery Challenge'. Intrigued? I'm sure you are!
Just click on the link below and enjoy the ride!
You're in for quite an adventure with a few lovely surprises to entertain you along the way.
Gabriel Farago
---
You CAN make a difference!
Yes! I would like to help The Garvan Institute of Medical Research unlock secrets of our genome by making a tax-deductible donation.
Click here to make a donation