Greetings from my attic in the Blue Mountains.
Countdown to Publication!
Because of a particularly beautiful stretch of spring weather, it was possible to exchange the attic for the garden, and work a lot outside. For me, this is an inspirational time, as the garden rewards us with a stunning spring display for all the care and effort provided during the year. Here, let me show you: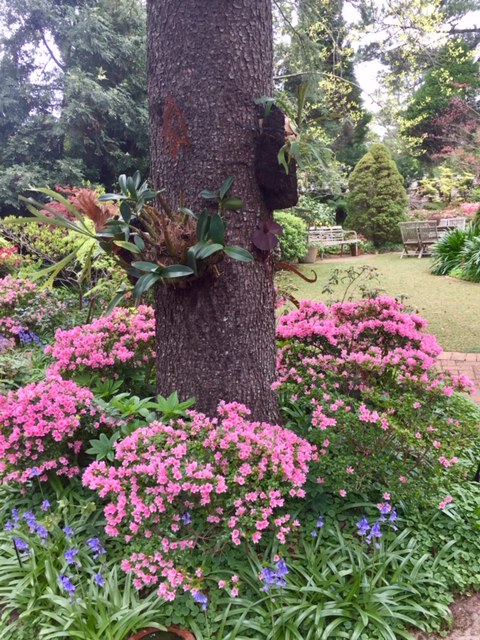 Because a World Heritage National Park is at our doorstep, a variety of exotic birds visit frequently, and have a good look at what I'm up to.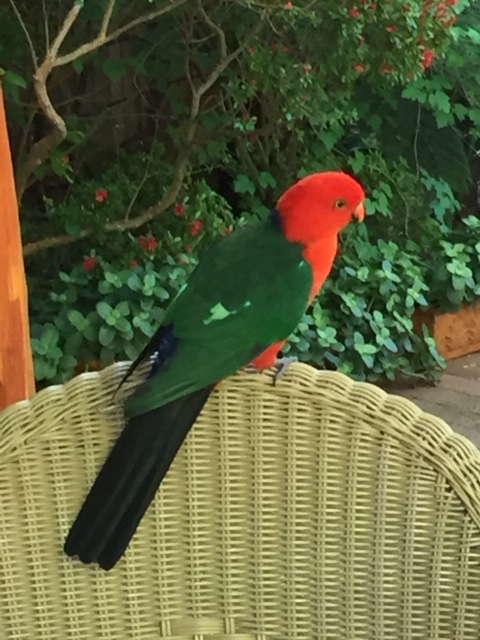 Being able to put the finishing touches to the next book in the garden was particularly enjoyable, especially after our dreadful bushfires earlier this year. At least for now, they are but a distant memory. I hope it stays that way.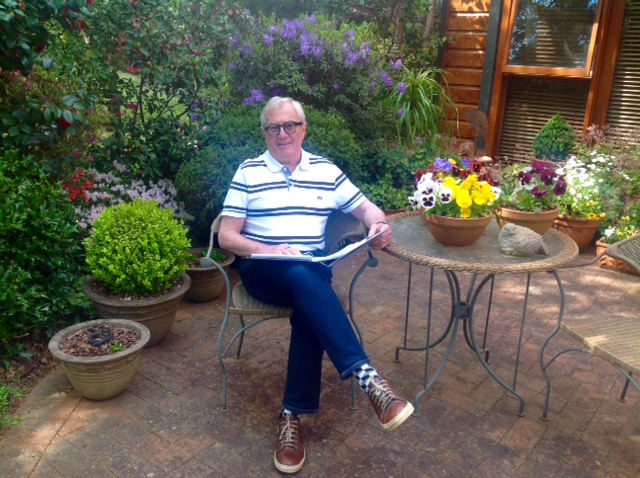 COUNTDOWN TO PUBLICATION
It's on!
 I am pleased to tell you that the next book, The Lost Symphony – my most ambitious project to date by far – has just been completed! This has only been possible because the Covid lockdown has provided the additional time required for the huge amount of research involved. That said, this has been one of my most rewarding periods of uninterrupted creativity I can remember, and I very much look forward to be able to share the results with you; soon! At the moment, we are aiming for a release date towards the end of November. There's still a lot to be done, but even the all-important cover design is well underway.
In my view, there's no better way to pique your interest in what's to come, than to share a brief extract from the book with you. Fascinating characters are without doubt one of the most important aspects of a successful thriller that will entertain you, and make you turn the pages. So, allow me to introduce you to Quasimodo, one of the unique characters you will meet in the book. This is a brief extract from chapter 40:
Quasimodo:  19 February 2017
"By the time Zuzanna pulled up in the deserted square in Montmartre, it was getting light and the houses were beginning to melt out of the darkness. It was also drizzling and bitter cold. Two stray dogs were curled up in one of the driveways, trying to keep warm, and the view up to the familiar dome of Sacre-Coer was obscured by dense fog drifting up from the Seine.
'Bleak, isn't it?' said Zuzanna and parked the car.
'It's early, and it's winter. And besides, bohemian neighbourhoods like this, are always bleak in the morning. Late nights come at a price: garbage bins overflowing with trash and empty bottles. I used to live not far from here after the Berlin wall came down in 89,' said Malenkova, looking dreamily across the square.
'I didn't know that.'
'Two years I spent here. It was tough going at the beginning, but I made some of my best contacts in the Paris underworld during that time. Emile was one of them. Come, let me introduce you to another.'
'Quasimodo?'
'Yes. Like Emile, he too is retired now, except when friends ask for a favour and pay handsomely for it,' said Malenkova, smiling and pointed to a small house on the other side of the square. 'He lives just over there, has done so for as long as I've known him.'
The first thing Zuzanna saw when the door finally opened, was the head of a huge dog growling at her. Before she could step back, a small hand reached out from behind the door and pulled the dog away.
'Come in and close the door,' said a voice, 'Enzo won't harm you once you're inside.'
'I hope he's right,' mumbled Zuzanna and held the door open for Malenkova. 'After you.'
'Coward,' said Malenkova, and hobbled inside.  'I've met Enzo before. He's harmless.'
Quasimodo was a dwarf. Not quite as tall as the dog sitting next to him, barrel-chested with broad shoulders, a twisted spine and very short legs, he had a normal looking head that seemed out of proportion with the rest of his deformed body.
'Good to see you, Frieda,' said Quasimodo as he looked up at Malenkova and shook her hand. 'It's been a long time. Come, let's go to the back.'
Malenkova didn't introduce Zuzanna.
As Quasimodo turned around, Zuzanna noticed the hump and smiled as the tiny man moved along the corridor with surprising agility, followed by his faithful dog.
The room at the back looked like a something out of a doll's house. The chairs and the lounge were close to the ground, and had obviously been custom-made for Quasimodo. Zuzanna helped Malenkova sit down which wasn't easy.
'I stopped apologising years ago,' said Quasimodo, pointing to the furniture, and climbed on top of one of the chairs. His dog settled down next to him.
'No need,' said Malenkova. 'We are here to do business not to drink tea. How did you go?'"
Not long now, my friends, and you will be able to step into the dangerous world of Quasimodo and his accomplices in the Paris underworld, and explore their many nail-biting adventures.
Book Launch Campaign
Many of you would have participated in one of our previous book launch campaigns, and therefore know what to expect: a fun time and a few exciting surprises, as we prepare the way for the worldwide release of The Lost Symphony, book 6 in the Jack Rogan Mysteries series.
As valued subscribers and friends, you are very much part of 'my team' and I cannot imagine a book launch without you. The campaign will begin shortly, so please watch out for my book launch emails and open them, because I don't want you to miss out!
A brief word about audiobooks.
I have been listening…
For over a year now, you've been asking me about audiobooks. Well, I've been listening … You will be pleased to hear that the Jack Rogan Mysteries are about to enter the exciting realm of audiobooks. You will hear more about this shortly.
But for now, a big 'thank you' to all of you who have pointed out the many advantages of audiobooks, and encouraged me to take this important step forward. One of those was Gale, who wrote to me recently about this and will be one of my 'advance sample listeners' to let me know how the audio version of my work resonates with my readership.
This is what Gale had to say:
"Dear Gabriel, 
Congratulations on your Gold Medal Award! They certainly chose the right author!  I am a huge audiobook fan because I can go about living my life while listening to my books.  I prefer the whisper/ sync option because I do enjoy reading when I can sit long enough to do so!
There are very few authors' books that I strictly read because of that. You are one of them. I LOVE Jack and this series! You have a unique style and the story is intriguing!  I am looking forward to more! Will they be offered in audio in the future?
Again, Congratulations!
Sincerely,
Gale "
Thank you for your encouragement and support, Gale, and that's why you are my Reader of The Month!
Not long now, and the audiobooks will be on their way. Promise!
Finally, my friends, just another little reminder about the FREE Starter Library which can be downloaded right now by visiting my website and following the prompts.
STAY SAFE, STAY CHEERFUL, and please STAY IN TOUCH.
We are all in this together, and together we will get through this!
I hope that the imminent release of the next book will provide some welcome anticipation and entertainment along the way.
Sincerely,
Author Gabriel Farago