Greetings from my attic in the Blue Mountains!
I would like to begin this newsletter by sharing something exciting with you, my friends. Because writing is such a solitary endeavour, every writer yearns for recognition. And when that happens, it is both uplifting and rewarding, especially for a thriller-fiction writer like myself, because it makes the countless hours of research, the weeks of being welded to the keyboard, and the intellectual challenge and struggle to make the characterisation, storylines and dialogue into page-turners, worthwhile.
While we have celebrated numerous literary awards before, none are more challenging and difficult to obtain than becoming a USA TODAY Bestselling Author!  It's a bit like reaching the top of that elusive publishing mountain we keep talking about and that, my friends, has just happened! Together, we have reached that lofty summit, and that would not have been possible without your wonderful encouragement and support! For that reason, this recognition belongs as much to you, as it belongs to me. Thank you!
You will recall that earlier this month I wrote to you about my participation in the Younger Self Letters, which I co-authored with 30 leading authors in the US. Joining forces with other authors was done to give the publication unprecedented variety and quality that would appeal to a wide range of readers around the globe.  Well, we were right in going down that path, because the book has just become a USA TODAY bestseller! In addition, it also reached #1 on Amazon, and turned into a global bestseller there as well.
This has given my author profile and the Jack Rogan Mysteries Series in particular, huge publicity and exposure, not only in the US, but around the world with numerous press releases, podcasts, and radio interviews etc. In the competitive publishing world where visibility is everything, this augurs well for the future, and it gives me great pleasure to be able to share this with you. Thank you once again for being such dedicated and supportive readers! You make it all worthwhile!
I always look forward to this segment because connecting with my readers is so important. Genuine feedback is both uplifting and rewarding because it provides a little insight into how my readers react not only to my work, but how they see me as a writer.
Because I get a lot of correspondence every month, choosing someone who stands out is never easy, but this month a note from one of my dedicated readers who closely follows what I do, definitely warrants to be singled out. This is what Robert from South Carolina had to say:
Congratulations on becoming a USA TODAY bestselling author! It was about time! Appropriate recognition in the US at last. It even featured in our paper. I have read all of your books and they are right up there with Lee Child, Clive Cussler and James Rollins, my other favorites. At least now the whole of America knows that too! Keep doing what you're doing. I hope the next book isn't too far away. I can hardly wait.

Your #1 fan,
Robert
Well, what can I say? Thank you, Robert, for your kind words. Yes, the USA TODAY success means a lot to me. And that's why you, my friend, are my Reader of the Month!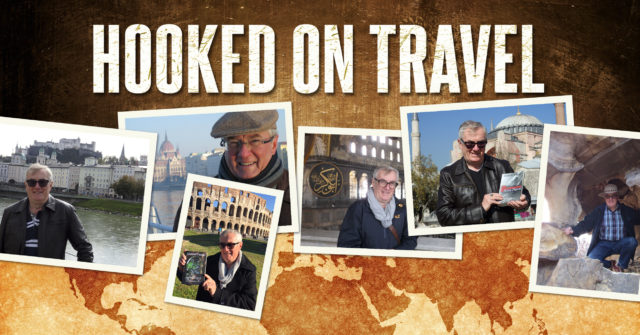 Those of you who follow me on Facebook and other social media platforms would have noticed that despite the dreaded Covid 19 virus that dominates our lives at the moment, I have been able to travel extensively this month.
Due to strict overseas travel restrictions in Australia (we are not allowed to leave the country) my journey was therefore confined to Australia. Not bad, when you have an entire content at your disposal! As they say, every cloud has a silver lining…
For that reason, I was able to undertake a fabulous journey I've had in the back of my mind for a long time: traversing our continent by rail from Adelaide in the south, to Darwin in the tropical north. This was a 3000 kilometre trans-continental journey on the 'Ghan,' a legendary train, that took several days to complete.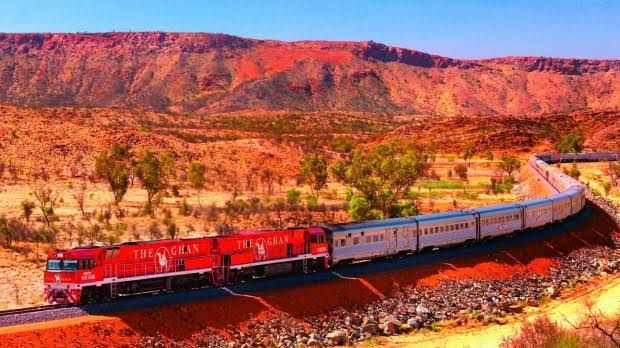 Because this was such an exciting journey that formed part of research for another novella I will be giving away for free as a small token of my appreciation for your ongoing support, I would like to share some of the highlights of that journey with you now.
One stop along the way was the stunning Nitmiluk Gorge in Outback Australia with its crocodiles and ancient, 30,000 year old Aboriginal rock art. Inspirational!
After that, it was off to Darwin in the Northern Territory.
This was taken in the Darwin Crocosaurus which gives you an idea of the size of these monsters. This one is almost 100 years old, and was caught in the Kakadu National Park close by.
I also visited the remote Tiwi islands in the Timor Sea off the coast of Darwin, famous for their Aboriginal culture and traditions. Painting, carving, dancing, and a lot more.
In the village I met a wonderful Aboriginal elder who told me Dreamtime stories handed down  over thousands of years from generation to generation. Inspiration for another book perhaps?  Definitely!
I hope you enjoyed travelling with me into these remote parts of our island continent.  Very soon, I will be travelling again. This time into some exciting, remote areas of Queensland, right up to Thursday Island close to New Guinea, and the Great Barrier Reef. Exciting times ahead, my friends! Promise!
Finally, my friends, just another little reminder about the FREE Starter Library which can be downloaded right now by visiting my website and following the prompts.
Don't miss out on the giveaways below from BookFunnel and BookSweeps.
STAY SAFE, STAY CHEERFUL, and please STAY IN TOUCH.
We are all in this together, and together we will get through this!
Sincerely,
Author Gabriel Farago
1. Literary, Historical & Women's Fiction Bookbub Follower Giveaway
Enter to win a bundle of Literary, Historical & Women's Fiction books and a brand new e-reader, plus 30+ Books! $350 Value!
This opportunity is available for a limited time only and will expire on 21st July.
*Subject to BookSweeps terms & conditions
2.  Kindle Unlimited Must-Read Summer: Thrillers, Suspense & Mystery Novels!
This promotion is available from July 14th – July 31st
*Subject to BookFunnel terms & conditions
3. First-in-Series Crime Fiction & Thrillers Giveaway
Enter to win a bundle of 45+ Crime Fiction & Thriller series starters and a brand new e-reader.
This opportunity is available for a limited time only and will expire on 21st July.
*Subject to BookSweeps terms & conditions