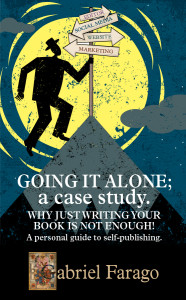 Becoming a self-published author doesn't happen in a vacuum. It is a journey of discovery, with highs and lows, many challenges – sometimes disappointments – but also triumphs and success.
Self-published international thriller author, Gabriel Farago, shares his journey to demystify self-publishing, and provides a practical guide to help you understand this complex, and often misunderstood subject.
On the 18th of May, after just one week on the market,  Going it Alone; why writing your book is not enough, a personal guide to self-publishing, has become a no 1 best-seller on Amazon! The book is also in first place on Amazon's Hot New Releases.