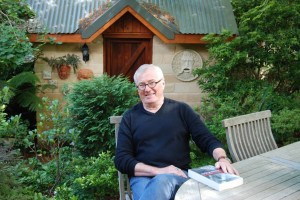 More than two decades ago, Leura lawyer Gabriel Farago represented some of those involved in the Milperra massacre, when a fight between rival bikie gangs left seven people dead in a pub carpark.
It is an experience he has drawn upon in his latest novel, The Disappearance of Anna Popov, a thriller about two girls who disappear from Alice Springs. Somewhere in the midst of the search in outback Australia, the hero and his side-kicks are drawn into the world of an outlaw bikie gang.
Mr Farago, who turned to writing after retiring from the law eight years ago, is a stickler for authenticity. He only writes about places he has researched first-hand. So for this book he travelled to central Australia and also across to the Kimberley to give readers a genuine sense of the outback.
In the same way, for his first book, The Empress Holds the Key, he travelled to various European cities and to Egypt to create a thriller involving terrorism, suspected Nazi war criminals and stolen gold in Swiss bank accounts.
Reaction to The Empress, available both in hard copy and as an ebook, "surpassed expectations", he said.
"The social media activity I am involved in has very much kicked it along. It's doing very well in Europe and in the US. And it's doing very well in ebooks – I'd say the ratio is 50 to one, ebooks to hard copies."
Such was the interest via Facebook, he and his wife, Joan, recently toured parts of Europe for nine weeks, promoting and launching his second book, including at a successful function in Budapest.
He was also interviewed on an English language program in France, which led to a mini-boom in book sales, he said.
Mr Farago describes his novels as "thrillers for the thinking reader".
"I like to get into detailed research but I sugarcoat it with action and interesting characters."
His historical facts are combined with elements of fiction, so readers as drawn into a page-turning thriller while also learning something real of history.
It's a long way from days at the Sydney Bar, in endless meetings or cooped up in a office reading briefs.
"I am liberated from all that. Something that started out after I left the law eight years ago as an interest has really become a full-time career."
He has a publicist in London helping to push into the European market and, locally, a number of book clubs have his novels on their lists.
"It's enormous fun," he said. "I can't wait every day to get back into it because it's the joy of creativity and it's very satisfying to get the feedback. To get to talk to people face to face who have read the book is so wonderful."
The Disappearance of Anna Popov is available at Megalong Books in Leura and online via Amazon, iTunes and the Book Depository.