April 2023 NEWSLETTER
Greetings from my attic in the Blue Mountains!
ANATOMY of a BOOK LAUNCH
Because of your extraordinary level of generous encouragement, support, and participation in the recent launch of my latest book – The Stolen Altarpiece – Book 8 in the Jack Rogan Mysteries series which was released on Tuesday, 25th April 2023, I have decided to devote this newsletter entirely to the book launch and its outstanding results.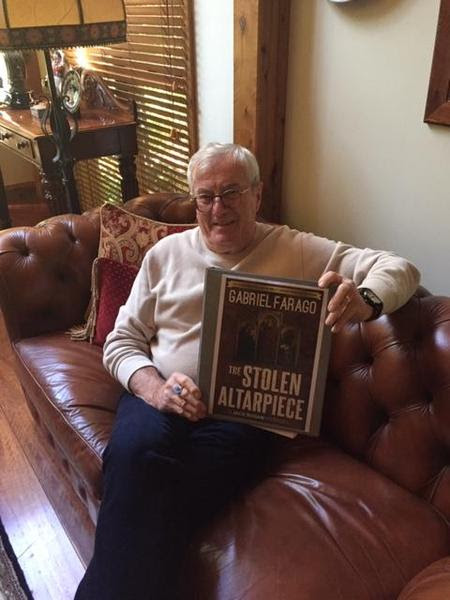 I am pleased to tell you that since its recent release, the book has become a #1 Bestseller and #1 Hot New Release on Amazon US and Amazon Australia in six categories. Needless to say, this outstanding result in such a short time, was in no small way due to the valuable support of dedicated readers like yourself, and would certainly not have been possible without it!
Without question, the book launch has surpassed all expectations, largely due to the wonderful participation and support of my Book Launch Team. I am very fortunate to have dedicated team members scattered around the world from Austria to Argentina, who took to social media with great enthusiasm to 'spread the word' about the new book. This splendid effort resulted in unprecedented sales which in turn propelled the book to number one in the Amazon Hot New Releases and Best Sellers categories.
In addition, I would like to mention another important contribution you have made to the successful release of the book: the many wonderful reviews! (More than 360 five-star reviews on various platforms so far!) Needless to say, I read every one of them, as I get a lot of valuable feedback from the way the book is received, and how the storylines resonate with readers. And of course, there is no better recommendation a new book can hope for than a favourable, well-crafted review from dedicated readers like you. 
Here's one example of a 5 star review posted on the very day the book was released:
5.0 out of 5 stars Clear some reading time for this one…
Reviewed in the United States  on April 25, 2023
Verified Purchase
 
"Jack Rogan, my favorite lovable larrikin, is following those breadcrumbs of destiny once again which launch him on a quest to locate a long lost religious relic rumored to hold great power. This quest will take Jack down a perilous path that proves incredibly dangerous not only to himself but to everyone he cares about. As it turns out, Jack is not the only one searching for this relic. The stakes could not be higher as Jack finds himself tangled in the strings of a most malevolent puppet master who harbors no qualms about killing anyone standing in his way – when Jack tries to thwart his adversary's manipulations, people die. What follows is a pulse-pounding adventure that will consume your every thought until you reach the conclusion of this epic adventure.
In my opinion, Gabriel Farago has no trouble holding his ground among such literary luminaries as Dan Brown, Robert Ludlum, James Rollins, or David Baldacci. He offers exquisite multi-layered plots rife with accounts of actual historical events and personalities deftly blended into his stories so seamlessly that it is hard to distinguish the fact from the fiction. I cannot imagine the staggering amount of research that must be involved to weave such intricate and absorbing tales.  
I revel in the superlative descriptions of exotic locales brimming with exquisite detail that convinces you that you are right there in the thick of the action with Jack and his friends experiencing the bitter cold of Russia's bone-chilling air, choking on the acrid smoke of bombs as they decimate buildings in war-torn Ukraine, retching at the fetid stench of over-crowded shelters, or, on a more pleasant note, happily savoring the enticing aromas of culinary delicacies you could only hope to someday sample. This author is, in my mind, a consummate storyteller that never fails to ensnare my imagination and hold my full attention from the first page to the last. Gabriel Farago – your blood's worth bottling.
I was provided with an advance copy of this book, for which I thank the author, but I also chose to purchase a final copy because it is that good. Also, I am sharing my honest and unbiased opinion on a completely voluntary basis."  ~ Amazon Review
Reviews are the true reflection of how a writers are viewed and their work resonates with their readership and the market generally. Ultimately, there's no place to hide! And that's fair, because every writer stands, or falls, is celebrated, or ignored, succeeds, or fails, by one thing alone: the quality of the work they produce.
Therefore, your contribution, my friends, is hugely important when it comes to the success of a book. Releasing a book is a team effort, and all of you, as valued members of my inner circle of readers, have not only contributed to the success of the book, but are part of it!
So, once again, a big "Thank You!" to you all.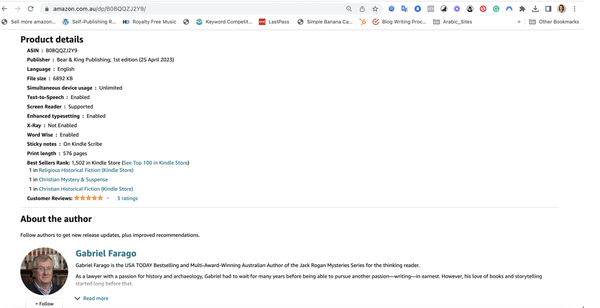 Another important function of reviews are marketplace exposure and recognition. Books are noticed because of reviews, and when books are noticed, authors get invited to participate in interviews and other valuable far-reaching promotions that can reach thousands of potential readers.
An excellent example was a recent, very timely, invitation by ManyBooks to participate in an interview regarding the imminent release of The Stolen Altarpiece. In fact, I was fortunate to be featured as Author of the Day during the lead up to publication which gave the book huge exposure in the US.
By way of illustration, here are a few sample interview questions to pique your interest:

What inspired you to write this story? Was there anything in particular that made you want to tackle this?

This book was inspired by the dreadful war in Ukraine which is affecting me deeply.  I was asking myself if there was perhaps something I could do, as a writer, to contribute to the war effort that could make a difference. After due reflection, the answer was a resounding YES! The power of the written word, if used correctly, can be huge and far-reaching. By writing a book, in this case a thriller, touching on subjects that are relevant to what is happening in Ukraine right now,  I realised that I have a unique opportunity to create AWARENESS not only of the war and the unspeakable atrocities and war crimes being committed by Russia, but of Ukrainian history, especially the terrible 1932/33 Holodomor, Stalin's 'Terror Famine' of which very little is known outside Ukraine, but which is very relevant if we are to understand what is happening in Ukraine right now, and what is motivating the extraordinary bravery and resistance by ordinary Ukrainians to the Russian invasion.
The book is, in fact, dedicated to the Ukrainian people.
Besides writing, what other secret skills do you have?

Ah… Most of them are, of course, secret, but here's a little insight into what they are: The best way to describe them with one word is … CURIOSITY. In fact, curiosity motivates and drives my writing generally. By introducing subjects that interest me into the storylines woven into the fabric of my books, I am able to explore those subjects in unique and imaginative ways. 
Here are a few examples of those subjects: history generally, archaeology, in particular. Philosophy, theology, cosmology, mathematics, astronomy, art, music, and chess, to name just a few. And yes, there is also religion, the Vatican, and the occult, to add a little spice and intrigue to the list.  Curiosity, coupled with the JOY OF LEARNING, are the cornerstones of my writing generally. 

How much research did this book require from you? What was the most interesting part of this story?

Because the overall structure of this book rests on multi-layered storylines drawing extensively on complex and far-reaching historical material, the research involved was huge. I do all of my own research, and travel for about two months a year, visiting the key locations featured in my books. In my view, authenticity, which underpins all of my writing, demands that.
If you are interested to have a look at the full interview which, I am sure you will find informative, you can find it here:
https://manybooks.net/featured-authors/gabriel-farago-a-long-forgotten-amulet-a-holy-relic-a-stolen-painting
Finally, my friends, thank you once again for coming along for the ride. Your valuable participation and support make it all worthwhile!
 
And one more thing … We have an exciting year ahead. Promise!